As European Union (EU) and Australia heading towards the crucial fifth rounds of talks for Free Trade Agreement (FTA), EU now preparing to deliver its first offer detailing greater export access to the European market and its half a billion consumers to the Australian Government.
After Australia published the list of geographical indications (GIs) as part of the EU-Australia FTA negotiating process, the EU will now finalise its offer on trade in goods. The list details the GIs which will be affected under the proposed FTA, said a statement issued by the Delegation of EU in Australia.
The EU Ambassador to Australia, Michael Pulch, welcomed the list's publication and looked forward to analysing the results of the public consultation.
He said that Australian Government's move to publish the list is an important step in improving greater access for Australian exporters to one of the world's largest economies.
"The publication clears the way for the EU to put the finishing touches on the first market access offer in order for an exchange with Australia well before the fifth round of negotiations in Canberra in October", Ambassador Michael Pulch remarked.
Ambassador Pulch said the GI list publication comes within weeks of the trade deal receiving renewed support in Brussels after the new European Commission President, Ursula von der Leyen, said "we will seek to swiftly conclude ongoing negotiations with Australia" in her published guidelines.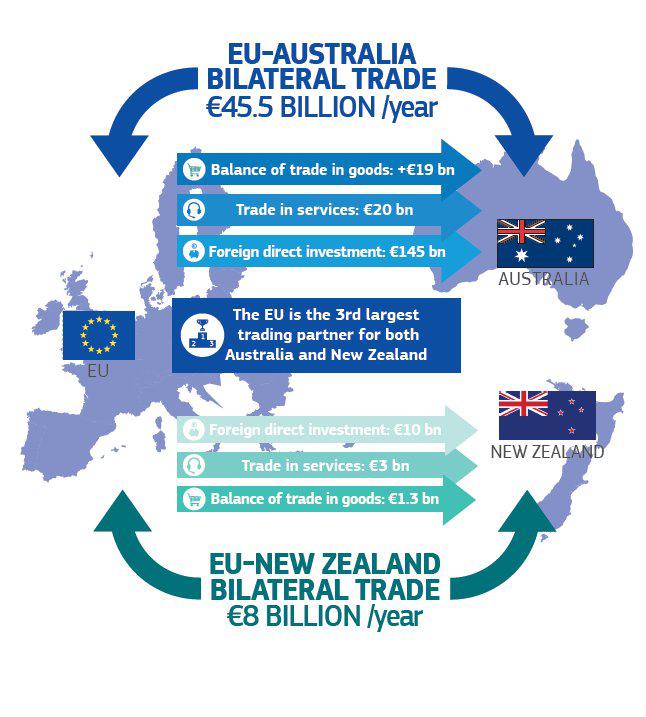 "The EU's GI system is as much a marketing tool for Australian as it is for European producers," Ambassador Pulch said. "The GI system helps registered producers get higher prices at the farm gate, generate more rural jobs and attract more tourists to regional areas.
"Importantly, the list clearly states that Australian producers will not have to change the names of their products if they use common names such as brie, camembert, salami, gouda, pecorino or cheddar."
According to the EU's model simulations in our impact assessment, trade in goods between Australia and the EU could increase by 37% in case of an ambitious trade deal.
The services trade, meanwhile, could increase by 8%. According to the same model, if the EU concludes ambitious trade agreements with both Australia and New Zealand, this could add up to €5bn to the Australian and EU GDP.