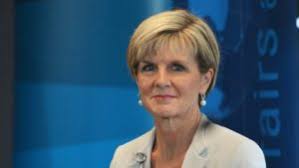 Foreign Minister Julie Bishop will represent Australia next week at the ministerial meeting of the US-led International Coalition against Daesh (IS). Kuwait is hosting the summit of international coalition against terrorist organization IS on February 13, which includes 74 members, representing countries and world organizations. The extraordinary meeting is part of Kuwait efforts to fight against terrorism.
Forces and personnel from over 30 countries led by United States are fighting against IS and made tangible progress in Iraq and Syria. US Secretary of State Rex Tillerson would also attend the mmeting.
It is expected that Julie Bishop on the sideline of the meeting will meet her US counterpart and will discuss issues of mutual concern including Prime Minister Malcolm Turnbull visit to US later this month.
Australian Financial Review has reported Tuesday that both foreign ministers will also discuss the nomination of new US ambassador for Australia as US Navy commander Harry Harris has all but been confirmed as America's next ambassador to Australia.