Morocco has invited Australian investors to invest in Morocco taking advantage of conducive business environment as the country has strong potential to become a commercial partner.
Moroccan Ambassador to Australia Karim MEDREK conveyed the message during his visit to the States of New South Wales and Victoria.
During his visit to the state of NSW, the Ambassador met with the State Governor, Mr. David Hurley and several government officials in order to discuss the prospects for strengthening regional and local cooperation with New South Wales.
The Ambassador and the Governor stressed the need to consolidate relations through the reinforcement of dialogue and exchange in addition to the interaction between the private and non-governmental sectors of Morocco and New South Wales, said a statement issued by the Embassy of Morocco.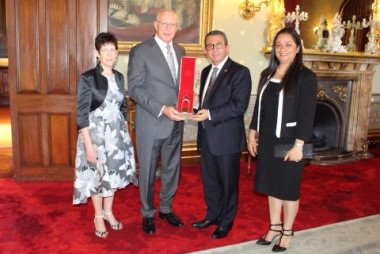 Besides, Mr. MEDREK also met with the Chief justice and Vice Governor of the state, Mr. Tom Bathurst, the Minister in charge of counter-terrorism in the local government of NSW, Mr. David Elliott and the MP member for Parramatta and Parliamentary Secretary to the Premier, Western Sydney and Multiculturalism, Mr. Geoff Lee.
Visiting the state of Victoria, HE Mr. MEDREK had a meeting with the Governor of the State of Victoria, Mrs. Linda DESSEAU during which both officials tackled issues of bilateral cooperation and the various ways of sharing experiences between the Kingdom and Victoria.
The Ambassador seized the occasion of his visit to Victoria to meet with the President of the State Legislative Council for Victoria, Mr. Bruce Atkinson, the Minister for Trade investment and Small Business, Mr. Phillip Dalidakis, the Vice Mayor of Melbourne, Mr. Aaron Woods, the Shadow Minister for Multicultural Affairs, Mrs. Inga Peluch and the University Professor, Pr. Fathi Mansouri.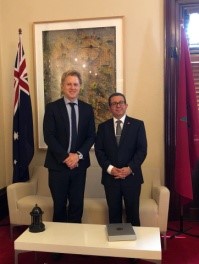 During these visits, Ambassador underlined that the reforms initiated, under the enlightened leadership of King Mohammed VI, have helped to consolidate the foundations of the Moroccan democratic system, noting that the central role of the Moroccan monarchy in maintaining the cohesion of the nation and the constant process of modernization have enabled the Kingdom to preserve its stability and pursue its development, in a regional context marked by political instability.
In addition, the Ambassador evoked the economic and social development of the Kingdom, its growth potential, its strengths in terms of access to regional and global markets, thanks in particular to the many reforms undertaken during the last decade. In this regard, he highlighted the major structural projects, the main infrastructures of the Kingdom and the conclusion of Free Trade Agreements with many countries and regions: All these make of Morocco a commercial partner possessing a strong potential.