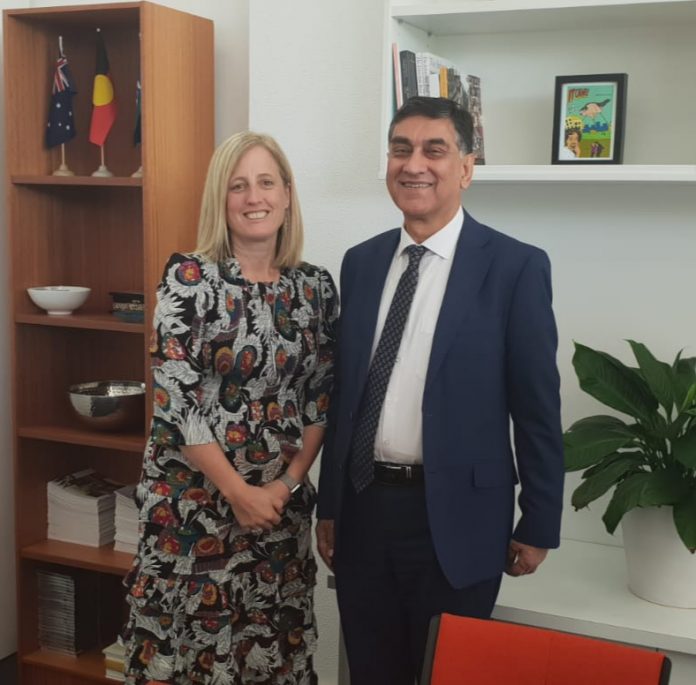 Pakistan High Commissioner Babar Amin Wednesday met with Senator Katy Gallagher, member for Canberra, of the Australia Labor Party in the Federal Parliament, at her office.
The High Commissioner appreciated and commended Senator Gallagher for her intervention in the Parliament on the issue of human rights violations in the India Occupied Jammu and Kashmir.
Referring to her interventions, the High Commissioner briefed her on the latest situation in IOJ&K in the backdrop of the illegal abrogation of autonomy and removal of restriction on the demographic changes in the Indian Occupied Jammu and Kashmir (IOJ&K) by the Indian government, on 5th August 2019.
Senator Gallagher said that raising the issue of plight of the Kashmiris in the Parliament was the least she could do.
The High Commissioner drew her attention to the Reports of the Office of the High Commissioner for Human Rights (OHCHR) issued in June 2018 and July 2019 about the grave human rights violations in IOJ&K.
Upon Senator Gallagher's query as to the current condition of the people in IOJ&K, the High Commissioner stated that situation has gone from bad to worse despite the claims to the contrary.
Drawing attention to the yesterday's call of the World Human Rights Day to 'Stand up for Human Rights', the High Commissioner hoped the International Community and Australia would also be able to support the restoration of the human rights of Kashmiris.
Senator Katy Gallagher thanked the High Commissioner for the briefing and expressed deep concern on the situation in IOJ&K.
She agreed with the High Commissioner's assertion that the international community must act swiftly to avoid further damage to the fabric of the lives of the Kashmiri people.
She also stated that the Australian silence on many issues was unfortunate which, was a sort of deviation from its advocacy for human rights.