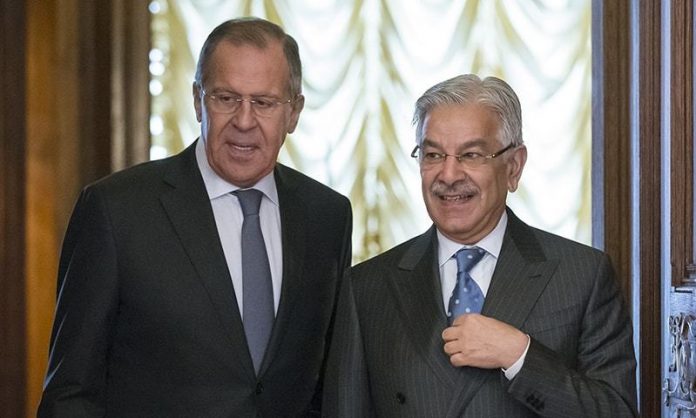 With growing thaw in bilateral ties, Russia has announced to continue to assist Pakistan to bolster its counter-terrorism capabilities and to form a commission for military cooperation as both nations are planning to hold new joint military exercises in 2018.
"One of priority areas of our cooperation is anti-terror fight," Russian Foreign Minister Lavrov said at a joint press meet with visiting Pakistani counterpart Khawaja Asif in Moscow on Tuesday. "We expect to continue providing assistance in enhancing Pakistan's potential to fight terrorism," Tass news wire quoted him as saying.
With changing strategic paradigm, as India is getting closer to United States to counter growing Chinese influence in the region, Russian is rapidly aligning herself with China and Pakistan.
Noting that the two countries will form a commission on military cooperation,Lavrov said "We have confirmed Russia's readiness to continue boosting Pakistan's counter-terrorism capacity, which is in the entire region's interests".
While asserting for military cooperation, Lavrov said Russia and Pakistan will continue the practice of organizing Druzhba (Friendship) joint tactical drills.
"We have decided to continue the practice of organization of joint tactical exercises Druzhba to drill skills of counter-terrorist organizations in mountainous conditions," he said. "Such drills were conducted last autumn in Russia's Karachay-Cherkessia."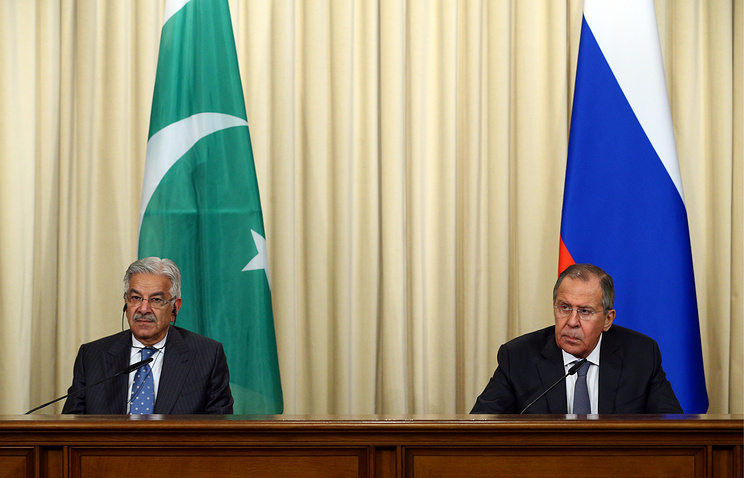 He said that Russia sees good opportunities for trade and economic cooperation with Pakistan, primarily in energy
"We have good opportunities in trade and economic cooperation, investment cooperation, most notably in energy, given that the significant part of this sector in your country was created with the assistance of our specialists," Lavrov said.
Pakistan Foreign Minister Khawaja Asif at the press meet said the proliferation IS terrorists in Afghanistan is a cause of alarm for Pakistan and the IS militants who have relocated themselves from the Middle East to northeastern Afghanistan are a threat for Pakistan, Central Asia and Russia.
Asif said Pakistan asserts that a negotiated settlement is the only solution to the Afghan conflict, but "the Daesh presence is definitely alarming for us because they are not a party to negotiations in Afghanistan".
Observing that there are "monumental failures" in Afghanistan, he said there was an effort to scapegoat Pakistan and other countries for the shortcomings.
Pakistan has rejected those allegations, Asif said, adding: "We cannot fight others wars' on our soil."
The foreign minister said both Pakistan and Russia have been making efforts to promote peace and reconciliation in Afghanistan. He said Pakistan supports the "role played by Russia in developing a regional approach to Afghanistan" and its "commendable" efforts for eliminating IS.
In an interview to Sputnik news last month, Asif noted that Russia and Pakistan had common interests in the areas of counterterrorism, fight against drugs, fight against human trafficking and peace settlement in Afghanistan.
Pakistan and Russia are celebrating 70th anniversary of establishment of diplomatic ties between the two countries this year.