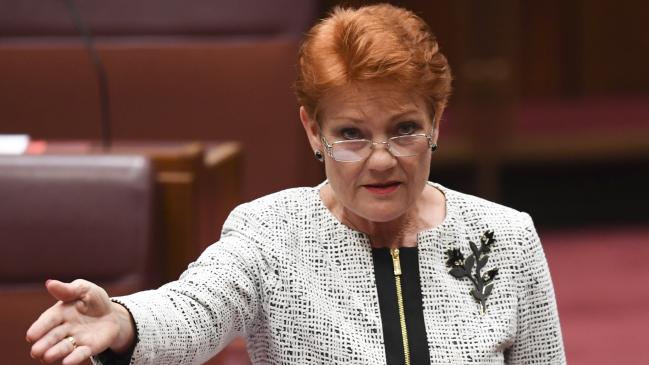 Pauline Hanson's One Nation expecting the possibility of an early election next year has wowed to contest every seat in Queensland at the next federal election and widen the carnage it caused for the ­Coalition at last month's state poll, raised the alarms for Turnbull government.
Although One Nation could secure only one seat in the Queensland election, its decision to preference nearly all sitting MPs next to last to the Greens was disastrous for the state LNP and threatens to swing a wrecking ball at the ­Coalition federally, The Australian reported Saturday.
One Nation powerbroker James Ashby said One Nation was gearing up for the possibility of an early election next year brought on by the MPs' citizenship fiasco.
"Our intention is to run in as many seats as possible across the country and all the seats in Queensland," Mr Ashby said. "Our vetting process (for candidates) is well under way."
The quarterly demographic analysis of Newspoll for The Weekend Aus­tralian this week showing that the Coalition's primary vote had slumped to 32 per in Queensland, less than what the state Liberal National Party polled on November 25.
This would cost Malcolm Turnbull up to 12 seats in that state alone. Worse still for the Prime Minister, the quarterly analysis of Newspoll had the Coalition languishing on a vote of 35 per cent in NSW and losing ground to Labor in the nation's five major capital cities.
Mr Ashby refused to be drawn on whether One Nation would persist with its preference policy to effectively put all sitting MPs last on its how-to-vote card.
One Nation's preferences appear to have flowed mostly as directed at the state election, ultimately at a greater cost to the LNP than Labor, but Mr Ashby denied that One Nation had cost the LNP the election.
Describing One Nation as a "conservative party, with conservative values", he said it would be prepared to discuss future preference arrangements with both the Coalition and Labor, but the decision would be Senator Hanson's. "Neither side wanted to speak to One Nation at the state election but I assume that will change," he said.