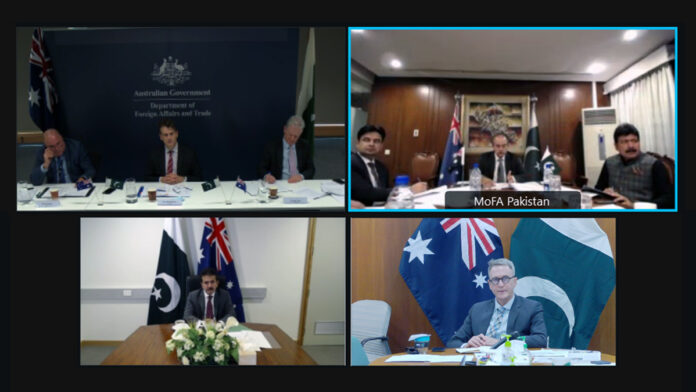 Australia and Pakistan agreed in principle to strengthen bilateral relations in diverse fields especially in trade and education.
The issues were discussed in detail during a virtual meeting of senior officials from Department of Foreign Affairs and Trade (DFAT) and Ministry of Foreign Affairs (MoFA) of Pakistan on November 15. Australian High Commissioner to Pakistan Dr Geoffrey Shaw and Pakistan High Commissioner to Australia Zahid Hafeez Chaudhary also participated. Meeting was chaired by deputy secretary Indo-Pacific, DFAT and additional secretary Pacific (MoFA).
Officials expressed their common desire to further strengthen ties and broaden cooperation between the two countries.
"We enjoy a long-standing relationship. We share a common interest in promoting peace and stability in our region and growing ties in trade and education", DFAT tweeted after the meeting.
Bilateral trade in goods and services was worth $1.84 billion in 2019-2020. Education services exports formed most Australia's $880 million services exports to Pakistan in 2019-2020. Around 12,000 Pakistanis were enrolled to study with Australia as of July 2021. There is a wide scope t expand trade and education services.
Pakistani officials raised the matter of Pakistani students return to Australia enrolled with educational centres.
Both sides also discussed the situation in Afghanistan and Australian officials thanked Pakistan for its generous support to Afghan evacuees.
On November 1, Foreign Minister Marise contacted her Pakistani counterpart Foreign Minister Shah Mahmood Qureshi and discussed the whole range of issues relating to bilateral relations and regional cooperation including return of Pakistani students to Australian universities.