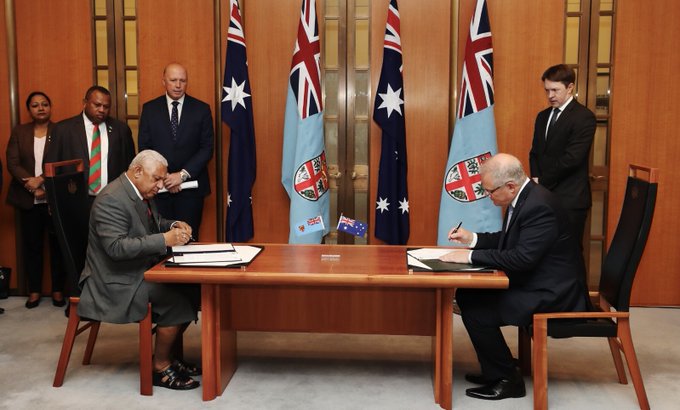 Australia and Fiji have signed Fiji-Australia Vuvale Partnership', a comprehensive agreement that will ensure deeper security, economic and people-to people link between the two nations.
The agreement was signed at the Parliament House after a meeting between Prime Minister Scott Morrison and his Fijian counterpart Frank Bainimarama on Monday.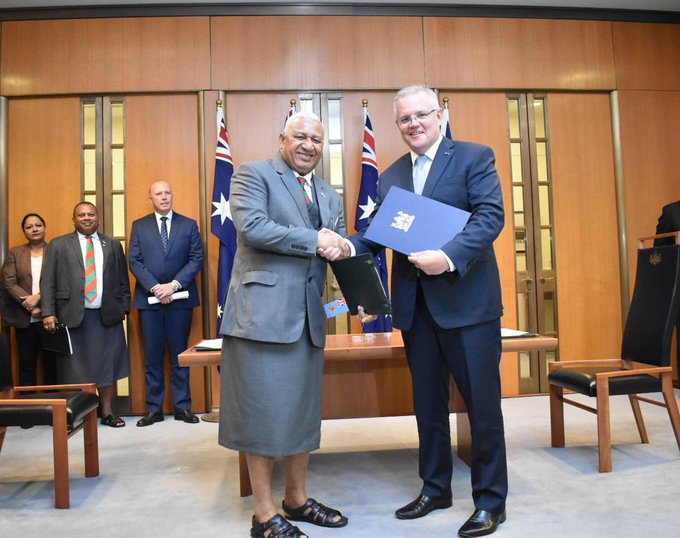 "The friendship was strengthened further today with the signing of the 'Vuvale means 'family' and that's what we are", PM Morrison said after signing the agreement.
The Vuvale partnership' was agreed between Mr Morrison and Mr Bainimarama during his visit to Fiji in January.
This included a pledge to allow Fijians to work in Australia for up to three years under the Pacific Labour Scheme and a commitment towards upgrading Fiji's Black Rock military training base.
"Today we took the Fiji-Australia relationship to historic heights as PM Scott Morrison and I signed on to the Vuvale Partnership", Fijian Prime Minister commented.
He said the bond of family forged between our nations paves the way to new levels of understanding and commitment today and for generations to come
Earlier, welcoming the Fijian counterpart, Mr Morrison said it was a great pleasure to be Australia's first Prime Minister to go to Fiji on a bilateral visit which I must admit at the time was a surprise to me that it had taken so long.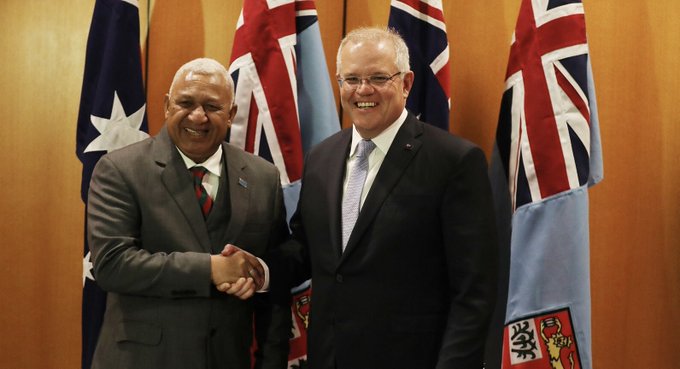 "The thing I love about how we've expressed it, it's a term of intimacy, it's a term of family, and that's very much always been the basis of our relationships", he said.
Prime Minister Bainimarama assured that he will work in advancing the era of respect and openness that has and must continue to define engagement between our governments.
"Members of any family are entitled to their disagreements. No one expects that our differences can be resolved quickly or easily. But we must never falter in forging common ground", he remarked.
Foreign Minister Marise Payne has welcomed the Vuvale Partnership between Australia and Fiji.
"Fiji & Australia have a strong friendship & long history of cooperation & shared interests. The 'Vuvale Partnership' signed today by PM Bainimarama & PM Morrison will take our relationship to the next level & deepen our longstanding ties", she said in her statement.