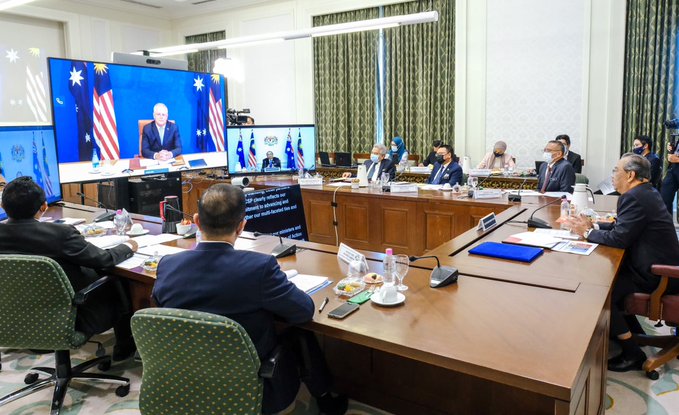 Australia and Malaysia building on shared history towards a shared future have elevated their ties to Comprehensive Strategic Partnership (CSP) which will expand their cooperation to new horizons to address today and tomorrow's most pressing challenges.
Prime Minister Scott Morrison and his Malaysian counterpart Prime Minister Muhyiddin Mohd Yassin officially launched the Malaysia-Australia Comprehensive Strategic Partnership (CSP) during the inaugural Malaysia-Australia Annual Leaders' Meeting, held via video conferencing late on Wednesday.
Malaysia and Australia are long-standing friends and natural partners. Both countries share similar characteristics, interests and values, as multicultural, multi-faith and parliamentary democracies.
Malaysian Prime Minister termed the elevation of the Malaysia-Australia partnership as very significant and historic, creating another milestone in diplomatic relations between the two countries.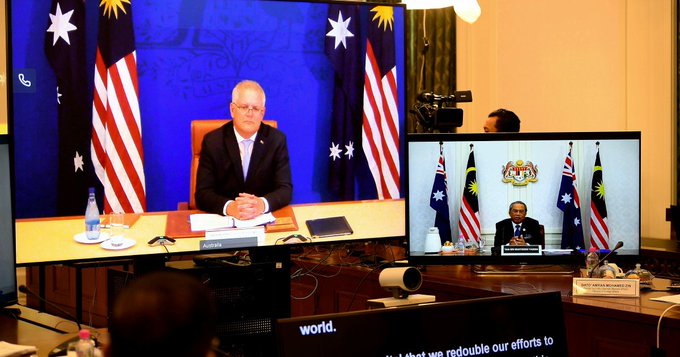 "It reflects both nations' genuine commitment to advancing and consolidating further the already extensive and multi-faceted cooperation bilaterally and at the multilateral level', he said in a statement after video conference.
In this respect, both Prime Ministers approved the Plan of Action, which charts out concrete initiatives under the three CSP main pillars namely, Economic Prosperity; Society and Technology as well as Defence Cooperation and Regional Security.
The two Prime Ministers also approved the Joint Statement of the Malaysia-Australia Annual Leaders' Meeting and will continue to meet each year to build further on their ambitious agenda.
Prime Minister Morrison while welcoming the CSP status with Malaysia regarded it as a significant step in bilateral longstanding partnership, befitting its breadth, depth and shared interests in the security and prosperity of this region.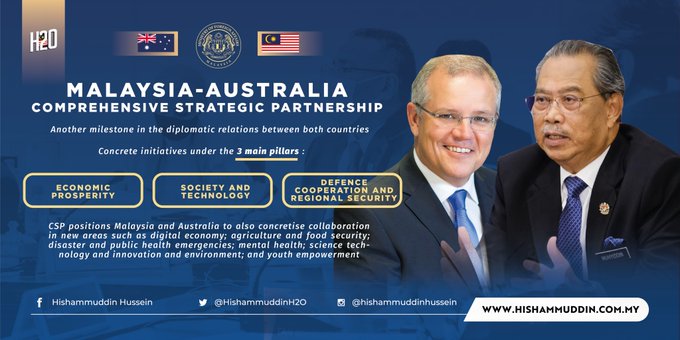 "As ASEAN's first dialogue partner, Australia's commitment to Southeast Asia is enduring. ASEAN remains at the heart of our vision for the Indo-Pacific, and Prime Minister Muhyiddin and I pledged to uphold and support ASEAN centrality", he remarked.
He added that both countries will also increase cooperation on strategic issues, including the security and stability of the Indo-Pacific region, and strengthen our dialogue on maritime interests to support our shared vision for a peaceful, stable and prosperous region.
According to the joint statement, in addition to consolidating further the existing cooperation, the CSP also positions Malaysia and Australia to concretise collaborations in new areas such as digital economy; agriculture and food security; disaster and public health emergencies; mental health; science technology and innovation and environment and youth empowerment etc.
Specifically on the on-going COVID-19 pandemic, the Prime Ministers agreed for Malaysia and Australia to undertake a set of effective measures to address the pandemic and mitigate its negative impacts.