The Embassy of the State of Qatar in Canberra Friday virtually celebrated the National Day as December 18 represents the anniversary of the foundation of the State of Qatar, by Sheikh Jassim Bin Mohammed.
Due to safety measures imposed to limit the spread of COVID-19, the Embassy of Qatar decided to cancel the annual celebrations of National Day and opted to celebrate the anniversary with friends in Australia, New Zealand, Fiji and Solomn Islands vis social media.
Ambassador Saad Bin Abdulla Al Mahmoud led the embassy team for virtual celebration with the theme of, "We praise you, the Lord of the Throne, we accept your judgements in all actions".
Ambassador Saad in his message on the occasion said that today, State of Qatar under the wise leadership of Emir Sheikh Tamim became a nation that enjoys stability, prosperity with a respectful and valued position on international arena.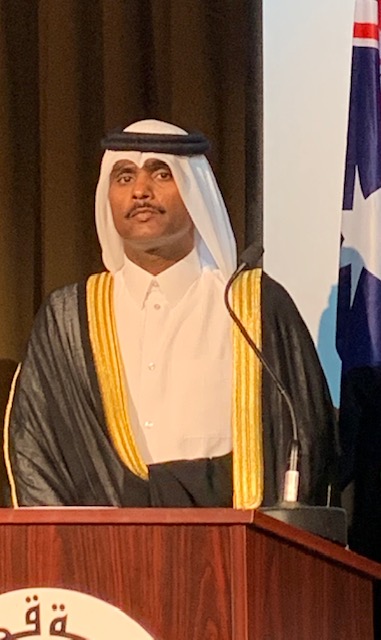 Referring the COVID-19 social distancing restrictions, he said that this year celebrations comes during exceptional circumstances faced by the world, which has kept us away from celebrating with you this important occasion in person.
Ambassador Saad Abdulla also highlighted the State of Qatar response and capabilities to tckle the pandemic which helped to contain the spread of the virus.
"Qatar has implemented flexible health and economic responses and harnessed the required capabilities and resources where fully equipped quarantine facilities, health care and free decent accomodation for every sick peon without any exception have been provided beside putting inplace an effective tracing system", he said.
Being a responsible nation, Qatar has provided health assistance to more than 70 countries and international organizations to address the epidemic.
Qatar hs pledged $10 million to the World Health Organization to contribute to the fight against COVID-19 virus and also pledged $20 million to the Gavi Alliance to develop and accelerate the manufacturing and distribution of the vaccine, fairly and equally to most deserving nations.
Ambassador Saad also expressed his profound gratitude to the friendly people and governments of Australia, New Zealand, Fiji and Solomon Islands for their efforts and fruitful cooperation to strengthen the bilateral relations with State of Qatar.