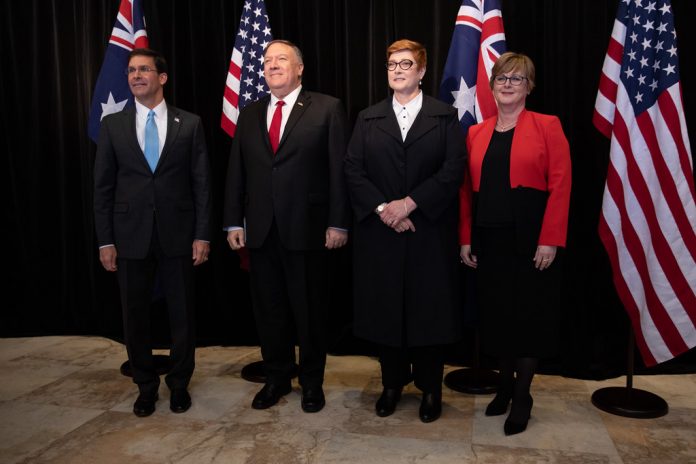 Amid rising tension with China, the annual session of Australia- United States Ministerial Consultations (AUSMIN) will be held in Washington on 28 July. Foreign Minister Marise Payne and Minister of Defence Senator Linda Reynolds are flying to Washington on Sunday at the invitation of Secretary of State Mike Pompeo and Secretary of Defense Mark Esper.
AUSMIN comes at a time when Australia's relationship with China is deteriorating and the US and China are at the point of closing down consulates in each other's countries.
"This 30th AUSMIN meeting comes at a critical time, amid significant strategic challenges, and a global pandemic with far-reaching social and economic impacts", Ms Payne and Senator Reynolds said in a joint statement issued on Saturday.
Australia often risk her ties with China at the behest of United States despite the very fact that China is Australia largest trading partner.
According to ABC, China is Australia's largest export market by a huge margin. In 2018-19 it took almost a third of all Australian exports, bringing in more than $153 billion. In the same period, Australian exports to the US brought in just under $25 billion.
In a blow to already to its already troubled relationship with China, Morrison Government has declared at United Nations that Beijing's South China Sea claims 'illegal'.
In a letter to the United Nations, Australia's permanent mission rejected the Chinese claims to disputed islands calling them "inconsistent" with international law.
"Our relationship with US is built on our shared values, and a shared understanding of the importance of maintaining presence and leadership in our region", the joint statement read.
without naming the tension around South China Sea, the ministers said that in the face of an increasingly complex and contested regional environment, it is vital we continue working together across the breadth of our relationship.
"At AUSMIN 2020 we will focus on how both our nations can best work together to respond to immense health, economic and security challenges', they said adding we will continue to make progress on our priorities, including investing in infrastructure in the region, countering disinformation, standing up for human rights, and strengthening science and technology cooperation.
Ministers will also discuss deepening defence cooperation in alignment with Australia's Defence Strategic Update and Force Structure Plan.