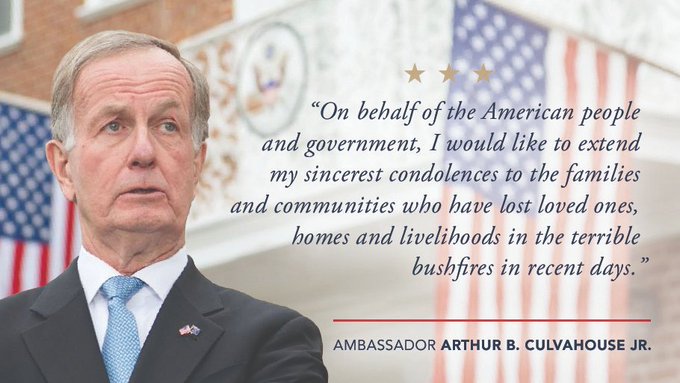 Ambassador of United States to Australia, Mr. Arthur B. Culvahouse Jr. has expressed deepest condolences on behalf of the American people and government to the families and communities who have lost loved ones, homes and livelihoods in the terrible bushfires in recent days.
In his message issued on Thursday, Ambassador Culvahouse also offered any additional assistance from USA and caution American citizens to pay close attention to the information and directives of the NSW Rural Fire Service and Rural Fire Service Queensland.
A tactical firefighting air-tanker Tanker 911 is already headed to Australia from New Mexico as part of an ongoing arrangement. These converted DC-10 aircraft can drop up to 9,400 gallons of fire retardant and have been used with success in Australia several times in recent years.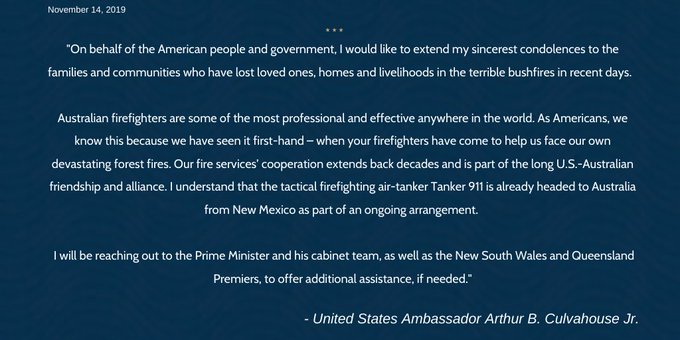 "I will be reaching out to the Prime Minister and his cabinet team, as well as the New South Wales and Queensland Premiers, to offer additional assistance, if needed", Ambassador Culvahouse remarked.
He said the fire and rescue services of Queensland and New South Wales have faced exceptional danger and challenges over the last week, and more is yet to come with additional dry, hot conditions predicted.
Paying tributes to Australian firefighters, US Ambassador believed that these firefighters are some of the most professional and effective anywhere in the world.
"As Americans, we know this because we have seen it first-hand – when your firefighters have come to help us face our own devastating forest fires. Our fire services' cooperation extends back decades and is part of the long U.S.-Australian friendship and alliance", he concluded.