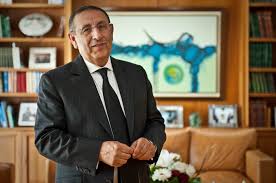 Youssef Amran, former minister delegate for foreign affairs believes Australia cannot afford to ignore Africa, media reported Friday.
During his visit to Australia he met with federal politicians sitting on a parliamentary foreign affairs committee and focused on sharing insights about combating terrorism as well as instability in the Middle East and North Africa.
Australia appointed its first ambassador to a new embassy in Rabat in May.
Mr Amrani said economic development and minimising unemployment in Africa had an important role to play in the fight against Islamic extremism. He sees huge scope for Australia to increase business ties with African countries and pointed out there was heavy Chinese investment.
"There are huge opportunities for you," he told AAP in Canberra.
"You should not ignore Africa."
Mr Amrani said in a globalised world, fast-growing African economies should be on Australia's radar.
"Don't think you are far, nobody is far," he said.