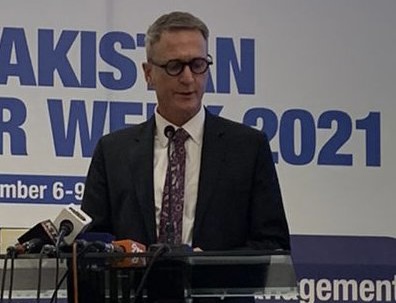 Australia named High Commissioner to Pakistan Dr Geoffrey Shaw as the Director-General of the Australian Safeguards and Non-Proliferation (ASNO) Office.
"ASNO implements Australia's domestic regulatory regime to fulfil our global non-proliferation commitments and has been central in Australia's becoming one of the world's leading non-proliferation regimes in complex technical areas", Foreign Minister Marise Payne said in a statement issued December 21.
ASNO focuses on domestic and international action to prevent the proliferation of weapons of mass destruction.
She said that ASNO's expertise will be vital as we work with the International Atomic Energy Agency (IAEA) and others to implement the highest possible non-proliferation standard for a future naval nuclear propulsion program.
Dr Geoffrey Shaw is a career public servant with strong technical skills and expertise in arms control and non-proliferation, particularly on chemical weapons issues. He is currently Australia's High Commissioner to Pakistan.
Dr Shaw also served as the Representative of the Director General of the IAEA to the United Nations from 2010 to 2015, and as Assistant Secretary ASNO from 2008-2010.
Dr Shaw holds a Doctorate in Philosophy (Chemistry) from the Australian National University and an undergraduate degree from the University of Wollongong.
Dr Shaw is replacing Dr Rob Floyd who has been elected to lead the Comprehensive Nuclear-Test-Ban Treaty Organization.