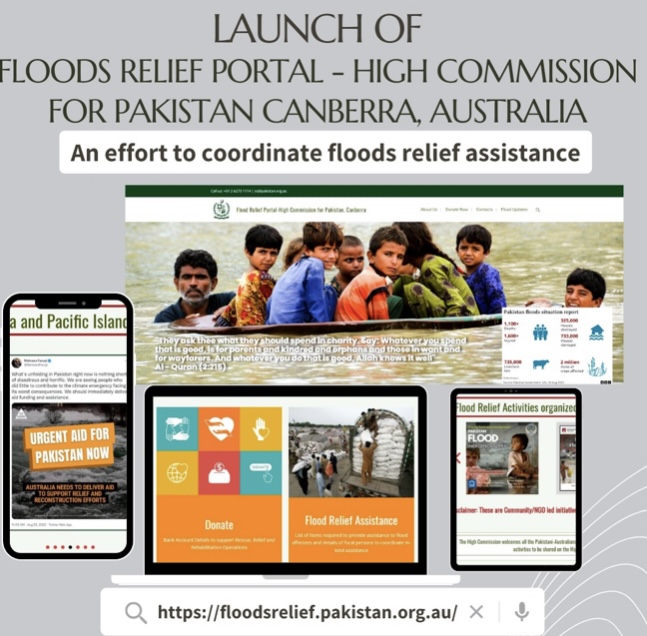 In the wake of devastated floods across Pakistan, High Commissioner for Pakistan Zahid Hafeez Chaudhri Monday launched the "Flood Relief Portal – High Commission for Pakistan, Canberra."
The aim of the portal is to enable optimal coordination of flood relief assistance activities within Australia and Pacific Island countries, as well as acknowledgement of Pakistani-Australian Community efforts and providing up to date information on the current flood situation. The portal can be accessed at https://floodsrelief.pakistan.org.au.
The initiative is taken in the wake of the worst floods in Pakistan that continue to wreak havoc in the country. The government has declared the floods a national emergency, with more than 80 districts declared to be "calamity hit."
More than 33 million people have been affected, at least 1,290 people, including 453 children, have lost their lives. More than 1,600 people have been injured and over 287,000 houses have been fully destroyed. Besides there have been loss of over 735,000 livestock and more than 2 million acres of crops have been adversely impacted.
"This is the first of its kind initiative taken by the High Commission for Pakistan, Canberra to coordinate flood relief assistance activities in any Pakistani Mission abroad", High Commissioner Chaudhri said.
The portal was launched in an effort to provide a single platform for sharing up to date and consolidated information on the flood situation in Pakistan including bank account details for online donations; in-kind flood relief assistance; and list of required items and medicines to assist in the flood relief efforts.
In addition, the portal provides an opportunity to all the Pakistani-Australian Associations to share their flood related relief activities organized to assist flood victims in Pakistan.