Qatar and Pakistan agreed in principle to bolster multifaceted ties in various domain especially in investment, energy, food security and military cooperation. Qatar also decided to import 100,000 Pakistani workers for various development projects.
The agreement was reached during meeting between visiting Pakistani Prime Minister Imran khan and Amir of Qatar Sheikh Tamim bin Hamad Al Thani on Tuesday in Doha, Qatari media reported.
According to Qatar News Agency (QNA) both leaders also exchanged views on current regional and international issues of common concern.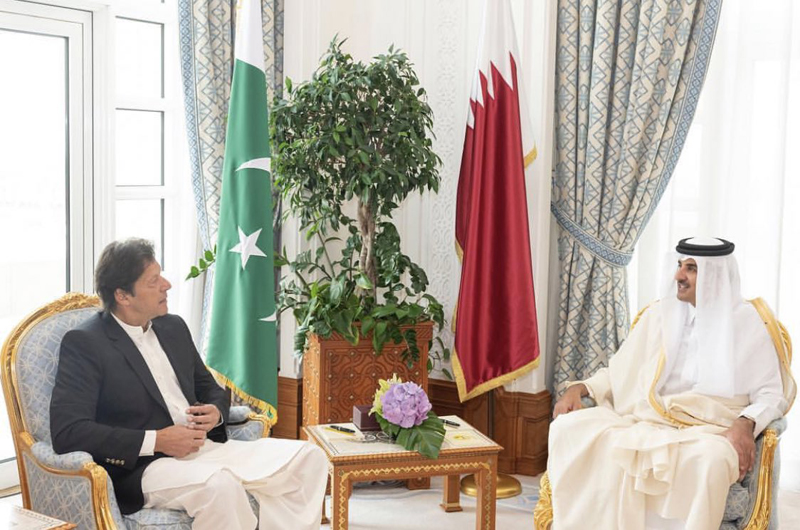 Emir of Qatar and Prime Minister Khan held one-on-one and delegation-level talks where Qatar Emir expressed his hope that the visit would contribute to enhancing cooperation between the two countries to serve the interests of the two brotherly peoples.
The talks were attended by the Prime Minister of Qatar Sheikh Abdullah bin Nasser bin Khalifa Al Thani, and a number of ministers. From the Pakistani side members of the official delegation accompanying the Prime Minister attended the talks.
Meeting between Prime Ministers
On Monday Prime Minister and Interior Minister of Qatar Sheikh Abdullah bin Nasser bin Khalifa al-Thani met Pakistan Prime Minister Imran Khan and discussed bilateral co-operation between the two countries in various fields, and exchanged views on regional and international issues, Gulf Times reported.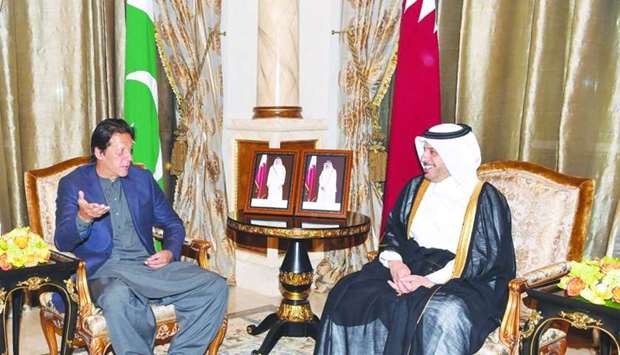 Qatar Chamber, Pakistani PM discuss private sector cooperation
Chairman Qatar Chamber (QC) Sheikh Khalifa bin Jassim Al Thani, number of QC Board of Directors and Qatari businesspersons, met with Prime Minister Imran Khan during his two day visit to Qatar. The meeting reviewed ways of enhancing trade co-operation and investment opportunities available in both countries.
Qatari businessmen expressed their keenness on further bolstering the trade cooperation between Qatar and Pakistan; and Qatari companies' interests in deepening relations with their counterparts in Pakistan, The Peninsula Qatar reported.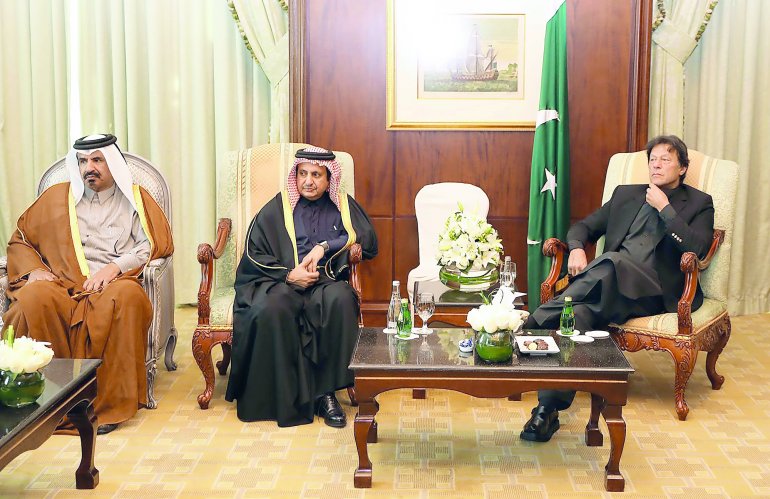 Sheikh Khalifa stressed the Chamber's keenness on developing both countries' trade co-operation, noting that it strives to deepen relations between Qatari companies and their counterparts from Pakistan.
"There is a scope for Pakistani companies to establish joint ventures and commercial alliances with Qatari side in all sectors, especially in food and agricultural sectors", he noted.
Sheikh Khalifa informed the Prime Minister Khan that there are 1250 Qatar-Pakistan joint companies operating in Qatar in different sectors as at the end of 2018.
He said that their trade volume witnessed a 100 percent growth in 2017 by $1.6bn. It increased from $782 mn in 2016 to $ 1.6bn in 2017. It also reached $1.8bn registering a 12.5 percent growth during the first nine months of 2018.
Qatar's Supreme Committee for Delivery & Legacy (SC) secretary-general Hassan al-Thawadi also met with Prime Minister Imran Khan and discussed potential collaborations for 2022 FIFA World Cup-related projects.
According to Gulf Times, Al-Thawadi told reporters after the meeting that we discussed the areas where Qatar and Pakistan could work together, such as the skilled workforce from Pakistan, as well as legacy projects and sectors like the manufacturing.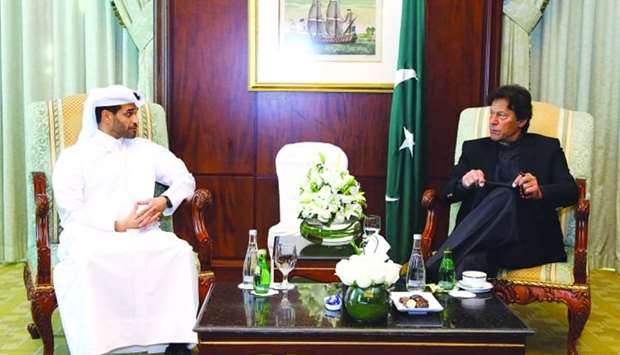 He also told the Qatar Tribune that Qatar is looking to hire the services of skilled Pakistani workforce for 2022 FIFA World Cup projects.
Security cooperation
On a question regarding security cooperation, al-Thawadi said That "Pakistan is very well known in terms of having very professional security forces, so I believe that is in the agenda, but it is something that the security committee will be discussing in more detail".