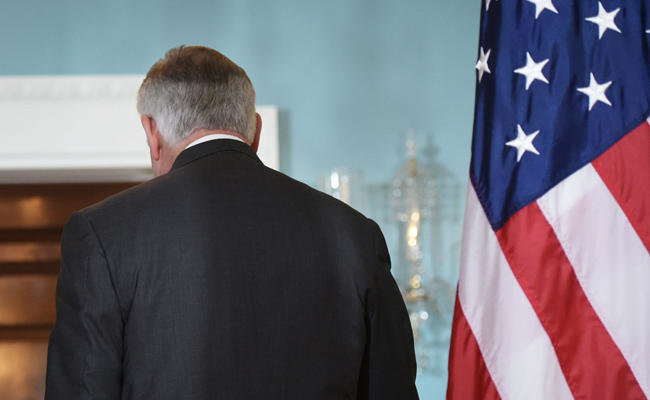 Tillerson would be replaced by CIA Director Mike Pompeo, known as a Trump loyalist and foreign policy hard-liner, within weeks under a White House plan to carry out the most significant staff shake-up so far of the Trump administration.
Republican Senator Tom Cotton, one of Trump's staunchest defenders in Congress, would be tapped to replace Pompeo at the Central Intelligence Agency, the officials told Reuters, speaking on condition of anonymity.
It was not immediately clear whether Trump had given final approval to the latest staff shake-up, but one of the officials said the president asked for the plan to be put together.
Tillerson's long-rumored departure would end a troubled tenure for the former Exxon Mobil Corp chief executive, who has been increasingly at odds with Trump over policy challenges such as North Korea and under fire for his planned cuts at the State Department.
I'd be sorry to see Tillerson go: Bishop
Foreign Minister Julie Bishop hopes Rex Tillerson stays on as the US secretary of state.
Reports have emerged that President Donald Trump is planning to oust Mr Tillerson and replace him with CIA director Mike Pompeo.
Ms Bishop says she has formed a very close personal and professional working relationship with Mr Tillerson and would be "very sorry" to see him go.
"I think he has represented the United States' interests exceedingly well, particularly in our region," she told Sky News on Friday.
"I would hope that he would stay on. He's built up a lot of trust and respect in Australia and the Indo-Pacific."
The deputy Liberal leader has met Mr Pompeo and has had "very productive" and constructive discussions with him in his current role.
"I feel sure that I could work closely with whomever the United States administration determines should be the secretary of state," she said.