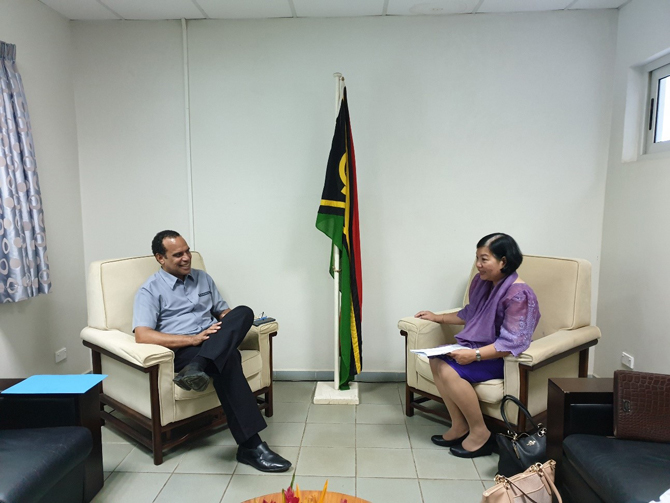 Philippine Ambassador in Australia Ma. Hellen B. De La Vega called on Ralph Regenvanu, Minister for Foreign Affairs, International Cooperation and External Trade of the Republic of Vanuatu on 07 May 2019 in Port Vila, Vanuatu.
Ambassador De La Vega expressed the commitment of the Philippines to enhance bilateral relations with Vanuatu and to make significant strides in the bilateral relationship especially in preparation for the 35th Anniversary of Philippines-Vanuatu Diplomatic Relations in 2021.
She said she will prioritize cooperation in education, trade and climate change, said a statement issued from embassy of Philippine in Canberra.
Foreign Minister Regenvanu welcomed the initiatives to strengthen the bilateral partnership between the Philippines and Vanuatu.
He said his Ministry will work closely with the Philippine Consulate in Vanuatu in pursing these. He expressed appreciation for the growing Filipino community in Vanuatu and their contributions to Vanuatu's development.
Ambassador De La Vega officially assumed her role as Non-Resident Ambassador to Vanuatu following her presentation of credentials on 07 May 2019.