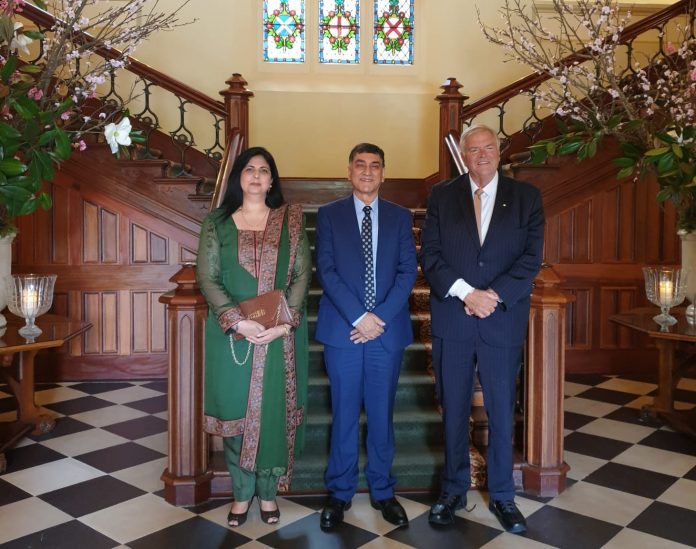 High Commissioner for Pakistan, Babar Amin, Thursday called on the Governor of Western Australia Mr Kim Beazley at the Government House, Perth and discussed the bilateral relations besides briefing him on the latest situation in Indian Occupied Kashmir.
"Relations between Pakistan and Australia were on the upward trajectory and cricket had also played an important role in bringing our people closer", High Commissioner told the Governor.
Babar Amin emphasized the need for increasing interactions and evolving mechanisms for the regular exchange of views for promotion of bilateral cooperation in all spheres of life including trade and economic cooperation etc., at the State level.
The Governor appreciated the historically friendly relations between Australia and Pakistan and hoped that the relations would grow further.
He recalled his fond memories of the University of Oxford when Prime Minister Imran Khan used to play cricket for the University.
Concurring with High Commissioner on the need to strengthen State level ties, the Governor stated that he would convey to the government of Western Australia, Pakistan's desire to deepen trade, economic, scientific and educational relations.
Pakistan High Commissioner also gave a detailed briefing about the human rights violations and the humanitarian crisis in the Indian Occupied Jammu & Kashmir (IOJ&K).
"Indian actions of 5th August 2019 were aimed at depriving the Kashmiris of their right to self-determination", High Commissioner warned adding that eight million Kashmiris had been under virtual lockdown for the third consecutive month now, facing the state enhanced human rights violations and living under tremendous hardship.
He drew attention of the Governor towards the Reports of the Office of the UN High Commissioner for Human Rights, Amnesty International, Human Rights Watch and other organizations that have consistently expressed grave concern on the human rights and humanitarian situation in the IOJ&K.